US Oil Output Set to Average 10.7 Million Barrels a Day in 2018, Highest on Record
U.S. crude production is poised to accelerate this year, reaching the highest annual average on record.
The Energy Information Administration boosted its output forecasts for 2018 and 2019, and said that production would top 11 million barrels a day in October — a month ahead of prior estimates.
The forecast comes as U.S. shale producers met with OPEC officials for a dinner on the sidelines of the CERAWeek by IHS Markit conference in Houston Monday night. OPEC Secretary General Mohammad Barkindo told Bloomberg after the dinner that he wasn't worried about U.S. production growth because "demand is very robust, very strong."
Yet overall U.S. output this year will average 10.7 million barrels a day, breaking the 1970 record of 9.6 million barrels a day, according to EIA's monthly Short-Term Energy Outlook. That's after production jumped to a record high of 10.057 million barrels a day in November, according to previous data from the EIA.
Next year, average output will climb to 11.27 million, up from a prior forecast of 11.18 million, the report showed. That puts the U.S. on track to eclipse the likes of Saudi Arabia and Russia as the world's largest producer.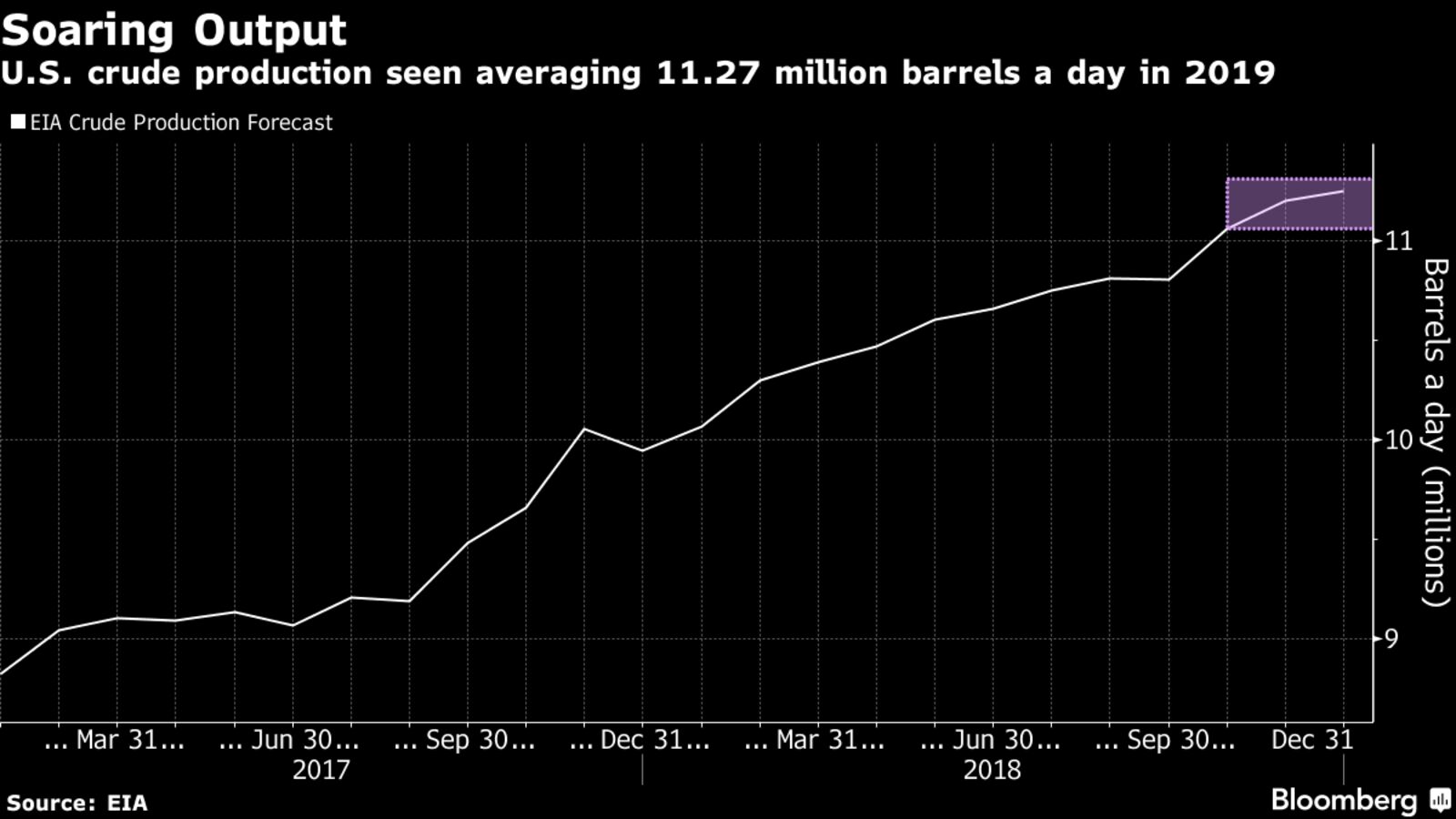 Saudi Aramco Chief Executive Officer Amin Nasser downplayed the impact of U.S. output during a speech in Houston. The future role of oil is "widely misunderstood," Nasser said Tuesday, emphasizing that oil demand globally remains healthy.
Nevertheless, the U.S. stands to dominate global oil markets for years to come, satisfying 80 percent of global demand growth to 2020, the International Energy Agency said Monday. And the U.S. is set to become part of the top five global crude exporters, according to consultant Wood Mackenzie Ltd. West Texas Intermediate crude has averaged above $62 a barrel so far this year, encouraging a ramp-up in drilling, while the oil rig count has climbed for six straight weeks to the highest level since 2015.
The EIA increased its estimates for global production this year, while lowering demand. Output is seen at 100.62 million barrels a day, up from 100.43 million previously, with demand at 100.2 million, compared with 100.23 million.
Shared from Bloomberg